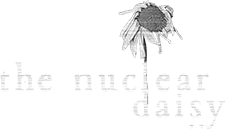 ---
A NEW BAND FROM RICHARD FRANK
"THE STORM" EP OUT NOW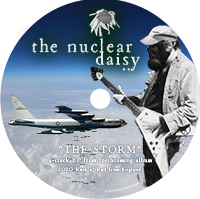 Videos from The Storm EP
Extinction Rebellion
Extinction Rebellion Lyrics
Empire Shakedown
Empire Shakedown Lyrics
Previous videos from One Black Orchid
Chickens In The Police Lights
London Dreams Are Falling
Summer Coma
John Doe's Gotta Gun
The Government Is The Enemy
Take A Pill
Brained Out
Audio tracks from The Storm EP
Just One Pill
Empire Shakedown
Palaces
About the Band
New English Rock n' Roll Band The Nuclear Daisy were formed in the West of England in late 2019. Frontman and songwriter Richard Frank evolved from the popular "One Black Orchid" (oneblackorchid.com) which received much radio play in the USA, and were acclaimed as an "important chapter in English Rock n' Roll history" by Sounds magazine. They gigged widely throughout Europe.
In The Nuclear Daisy Richard combines his vocal and guitar talents with the avalanche drumming of The Dodger and the enormous keyboard sounds of M.T. Space.
A 4-track EP has been released for November 2019, the full album "The Storm" should follow in Spring 2020.
This is hard English Rock n' Roll with a rebel edge.
Band News & Radio Plays

6th November 2019
Thanks to Rob Levy for playing "Just One Pill" for his show Juxtaposition on KDHX Saint Louis

9th November 2019
Thanks to Josh for playing "Just One Pill" on KXRN Laguna Beach

24th November 2019
Thanks to HAARIS for playing "Just One Pill" for New Noize on 92.9 KjEE
The Nuclear Daisy Personnel
Richard "Rariboy" Frank - songs, vocals, guitars
The Dodger - drums
M.T.Space - synthesisers
Cherub - backing vocals
Ⓒ ℗ 2019 Sole copyright property of Richard Frank